D-Gs (Staats- und Universitätsbibliothek Göttingen): Theol. 242
Low German Primer containing ABC, Paternoster, Ave Maria, Credo, prayers for the guardian angel, the patron apostle and St Anne, and Ps 50
Format: 12,0×9,0cm, 12 foll., parchment, 8 marginal miniatures
Catalogue: Akademiebeschreibung (Ludwig Pfannmüller, 1912), Handschriftencensus.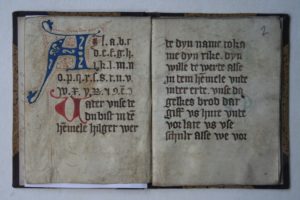 [Alphabet with Latin abbreviations]
A (fleuronnée).A (Kardelleninitiale).a.b.c.d.e.f.g.h.i.k.l.m.n.o.p.q.r.(long-)s.s.t.u.v.w.x.y.z. et, us, est, con
[Paternoster]
Vader unse, de du bist in dem hemmele,
hilget wer(2r)de din name,
tokame din rike.
din wille de werde,
alse in dem hemmele unde in der erde.
unse dagelkes brod, dat giff us hute,
unde vorlate us use schult, alse we vor(folio 2v)laten usen schuldener,
unde vor us nicht in bekoringhe, sunder loze us van deme ovele, Amen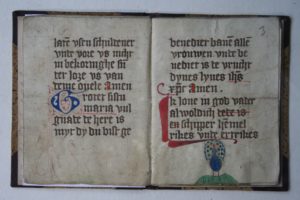 [Ave Maria]
Grotet sistu, Maria, vul gnade, de here is mit di;
du bist ge(3r)benediet bauen allen vrouwen,
unde benediet is de vrucht dines lives, Jesus Christus, Amen.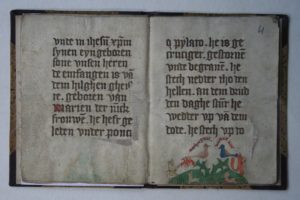 [Credo]
Ik love in god vader alwoldich, schipper hemmelrikes unde ertrikes,
(3v) unde in Jesum Christum, sinen eingeboren sone, unsen heren,
de empfangen is van dem hilghen gheiste, geboren van Marien der iunckfrouwen.
He heft geleden under Ponti(4r)o Pilato.
He is gecruciget, gestorven unde begraven.
He stech nedder tho den hellen.
An dem drudden daghe stunt he wedder vp van dem dode.
He stech up to (folio 4v) den hemmelen. He sit tho der rechten hant God vaders almechtich.
He wert wedder komende to richtende de leuendighen unde de doden, Amen.
Ik loue ih den hilligen gheist, de hillighen (5r) cristen kerken, menschop der hilghen, vorgheuinge der sunde, upstandinge des vlesches unde dat ewighe leuent, Amen.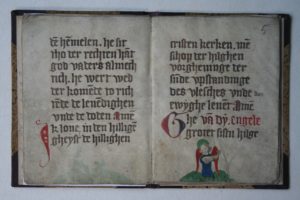 Van dinem engele
Ghegrotet sistu hilge (5v) enghel, de du bist en hoder min.
unde alle gi hillighen engele, de gi bi Gode sin.
Bewaret mi vor den vienden unde komet mi tho helpe in miner lesten not, Amen.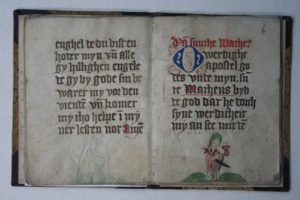 (6r) Van sunthe Matheus
O werdighe apostel Godes unde min, sunte Matheus:
bidde god, dat he dorch sine [!] werdicheit mi an see mit den oghen siner barmherticheit,
unde bestedige mi an enen guden levende wente an dem ende,
unde kump mi to helpe an miner lesten stunde, Amen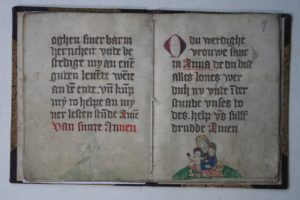 Van sunte Annen
(7r) O du werdighe vrouwe sancta Anna, de du bist alles loves werdich, nu unde in der stunde unses dodes.
Help uns sulffdrudde, Amen.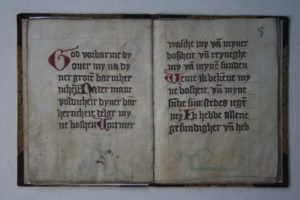 (Psalm 50)
(7v) God vorbarme di over mi na diner groten barmherticheit.
Na der mantvoldicheit diner barmherticheit delge mine bosheit.
Vortmer (8r) wasche mi van miner boßheit,
unde reineghe mi van minen sunden.
Wente ik bekenne mine bosheit.
unde mine sunde sint stedes iegen mi.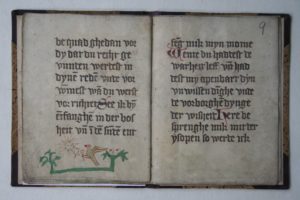 Ik hebbe allene gesundighet
unde heb(folio 8v)be quad ghedan vor di,
dat du recht gevunden werdest in dinen reden
unde vorwinnest wan du werst vorrichtet.
See ik bin entfanghen in der bosheit
unde in den sunden ent(folio 9r)feng mik min mome.
Wente du haddest de warheit leff
unde haddest mi openbart din vnwissendinghe unde de vorborghen dinge der wisheit.
Here besprenghe mik mit der isopen so werde ick(folio 9v) reine,
wasche mi so werde ik witer wan de sne.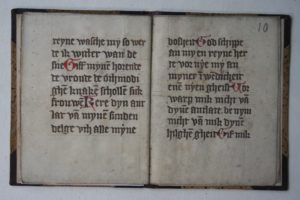 Giff minen horende de vroude,
de othmodighen knaken schollen sick frouwen.
Kere din antlat van minen sunden,
delge vth alle mine (folio 10r) bosheit.
God schippe an mi en reine herte,
vornie mi an miner inwendiheit enen nien gheist.
Vorwarp mik nicht van dinem antlate,
benim nicht van mik dinen hilghen gheit.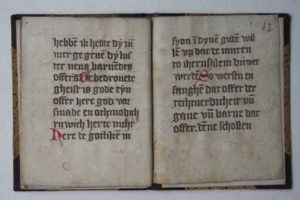 Gif mik (folio 10v) wedder de vroude dines heiles
unde starke mik in dem vorstliken gheist.
Ik wil den bosen leren dine wege,
de ergen de schollen wedder to di kert werde.
Los mi van den sunden, here God (11r) miner salicheit;
min tunghe, de schal sick frouwen diner rechtverdicheit.
Here opene mine lippen;
min munt de schal kundighen din loff.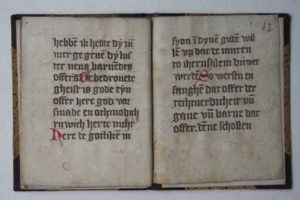 Wente woldestu dat offer ghehad (11v) hebben, ik hedde di iummer gegeven;
di lustet nens barnendes offers.
De bedrohvede gheist is gode ein offer,
here god vorsmade en othmodich ruwich herte nicht.
Here de gotliken in (12r) Sion in dinen guden willen,
up dat de muren to Jerusalem buwet werden.
So werstu enfanghen dat offer der rechtverdicheit unde gave unde barne dat offer,
denne schollen(12v)se leggen up din alter de kalvere.
Ere si (dem vader unde dem sone…)