A guest blog by Nick Swarbrick (Oxford Brookes University). Nick is an Affiliate of the School of Education, lecturing in a variety of areas from spirituality to children's literature
Candlemas is nearly here again, and provides an opportunity for me to reflect on the work of the last couple of years around a fascinating manuscript with a wonderful setting of the chants that bring the medieval Christmas liturgy to a close in February.
A chance friend-of-a-friend meeting led me to enthuse about my interest in medieval Western chant ("Gregorian Chant") and research in the 80s around the Bridgettine Order and their manuscripts. This in turn led to my being invited to join a project in which the Bodleian's Public Engagement Team were looking to open up to a wider audience some really interesting texts as part of a project funded by the Polonsky Foundation. Singing Together- Apart was what came of these and other meetings: we needed to respond to the isolation of the COVID-19 lockdown in 2020 while maintaining the impetus to share some wonderful manuscripts and their music.
We started with a first workshop where we explored a 15th-century manuscript from the Cistercian nunnery of Medingen (Bodleian Libraries MS. Lat. liturg. e. 18), and looked at the Song of Simeon, which provides the central text in the music for Candlemas.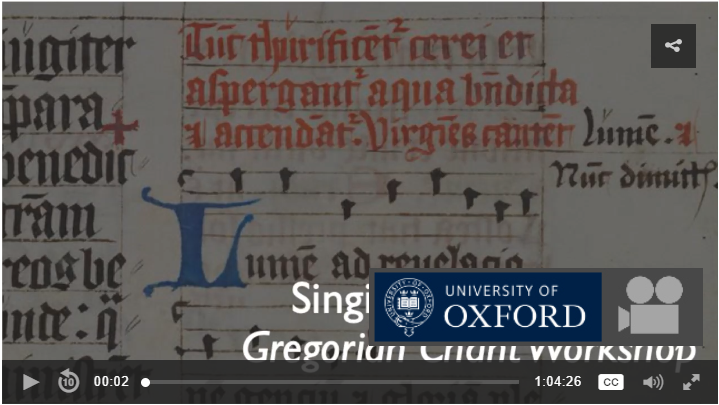 Henrike Lähnemann and Andrew Dunning provided the exploration of the manuscript, which is one of those treasures of medieval texts with revisions, different sized pages, details in writing that require the keenest of eyes… and I provided the musical "direction". As we learned and sang online (where everyone was free to make mistakes!), we moved between a transcription of the chant and the text as it appears in the manuscript – and we were asked by participants for a further chance to sing from the Medingen manuscript.
This we did, with the welcome addition of the Chaplain of St Edmund Hall, Zachary Guiliano. Although illness and other issues meant we weren't able to produce our next Bodcast [sic] in time for Candlemas on 2nd Feb 2021, we were able to explore ways to approach the medieval musical notation for the Nunc Dimittis and other pieces.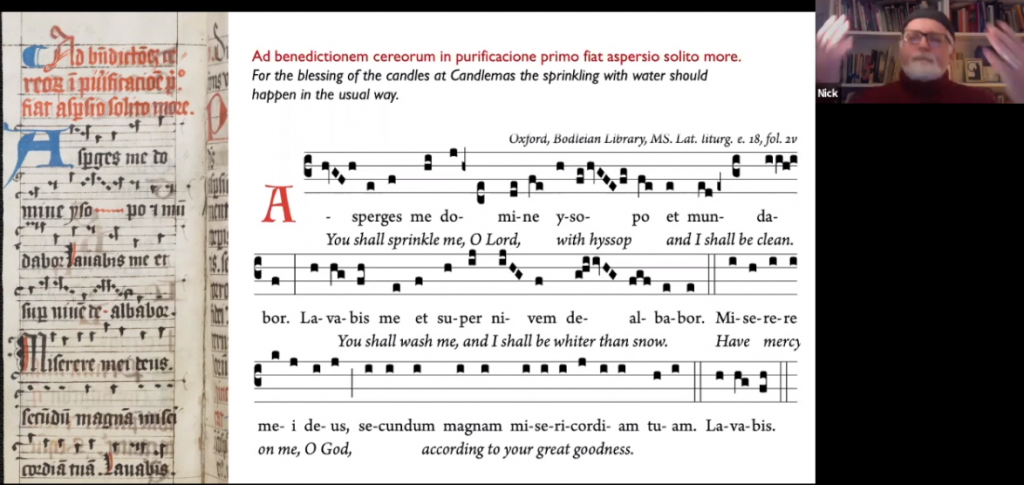 By dint of careful spacing and the use of a well-ventilated area to meet physically (most of us in the Crypt of St Peter in the East in Oxford) our final outing and was more communal than the previous Bodcasts. Here we explored more of the Medingen manuscript, and the drama of text and movement, this time with the text of the great Easter hymn, the 'Victimae Paschali Laudes', to the fore as part of the liturgy from another religious house.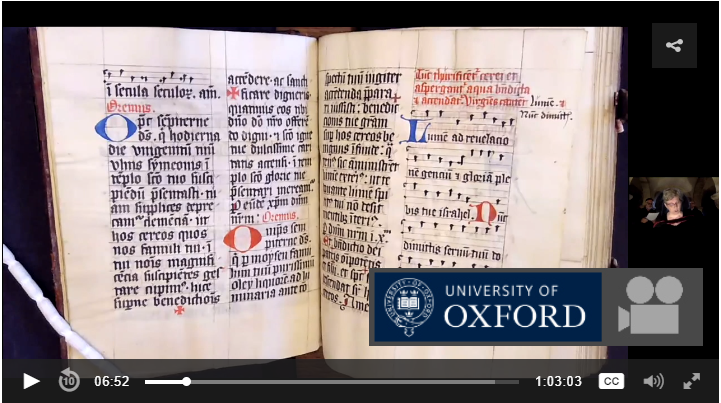 We repeated this workshop in July for a slightly different community: medievalists from all over the world who normally at that time of year would have gathered in Leeds for the International Medieval Conference. Read the full report on the blog of Oxford Medieval Studies.
2020-2021 was a difficult time for most of us in various ways; we reinvented our ways of connecting with one another academically, spiritually/liturgically and in more personal ways too. I have to say that these three "outings" were something of a lifeline for me, allowing me to look at women's liturgies once more, but also in leading some singing at a time when such things were banned or viewed with extreme caution. Thank you, therefore, to the team that assembled first around the Provost's Handbook of Medingen, to the Bodleian for letting me be part of this project – and to all those people who joined us online with questions and with singing together, although we were separated by circumstance.
A Light and a Glory. Singing Music for Candlemas from Medingen During Lockdown