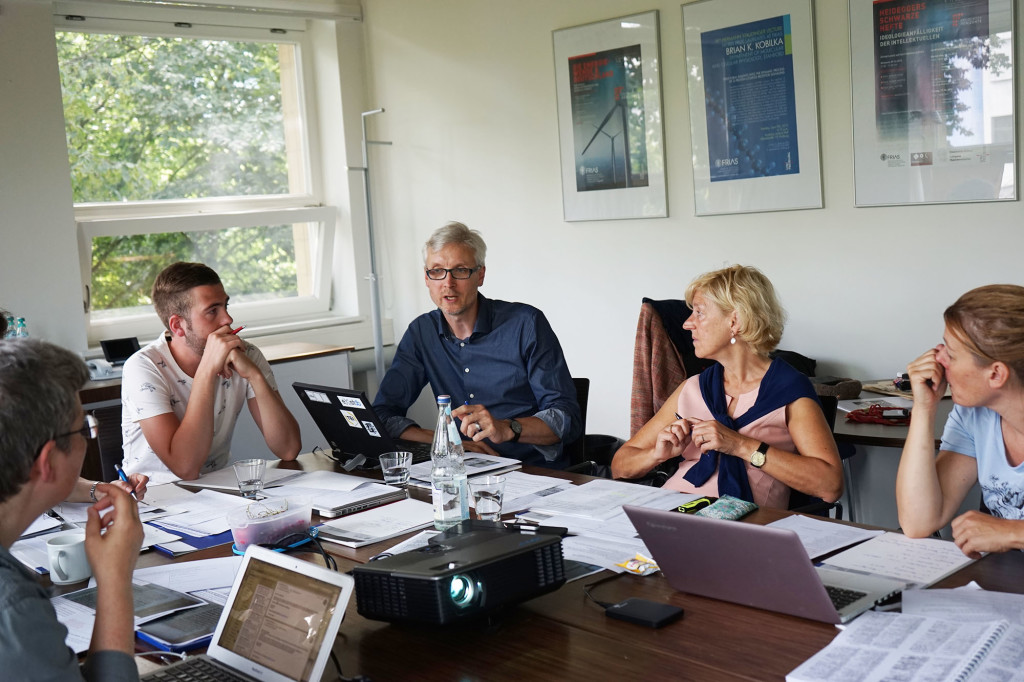 The project group for editing the letters by the nuns from Kloster Lüne met on 27/28 July in Freiburg. The 'Nuns' Network' project which is supported by the Gerda Henkel Stiftung is led by the historian Eva Schlotheuber and the Germanist Henrike Lähnemann. The first project meeting had taken place in Februray in St Edmund Hall, the second was now hosted at the FRIAS where Henrike Lähnemann is a Senior Research Fellow. The two days saw a packed work schedule developed by Simone Schultz-Balluff who brings to the project the historical linguistics perspective from her own project St. Anselmi Fragen an Maria: editing principles, work flow, digital realisation…
The discussion of the last point was mainly led by Torsten Schaßan from the Herzog August Bibliothek Wolfenbüttel where the letters will be open access published in the Digital Library (the link leads to an example from the Karlstadt edition, developed by Jennifer Bunselmeier, now DPhil student at St Edmund Hall). Currently, the digital position for the project is advertised at the HAB Wolfenbüttel, with generous support from the VolkswagenStiftung (which operates a call under the principle 'open for the unexpected' – offen für das Ungewöhnliche), the Klosterkammer Hannover (which supports Kloster Lüne as well as the other Lüneburger and Calenberger Klöster) and the Stiftung Braunschweigischer Kulturbesitz (in whose area Wolfenbüttel is located). It is a worthwhile challenge to agree on xml transcription guidelines and final representation online and in the print edition as a group coming from disciplinary backgrounds and traditions of standardisation, levels of historical and linguistic commentary. 
The content side is supported by Düsseldorf PhD student Lena Vosding who works on a thesis on the letters (cf. her blogpost  Gifts from the abbey).
In between, there was time for a glimpse of the Middle Ages in and around Freiburg: a tour of the Münster and an excursion to Günterstal – the second postdoc in the project, Edmund Wareham, has written his PhD thesis on the nuns thee (cf. blog post on everyday culture of the nuns between gingerbread and church). The nuns' networks thus spread beyond the board room – evidence in the attached image of the project group with the convent church of Günterstal and the streetname Klosterplatz!
Nuns' Network meeting in Freiburg