Henrike Lähnemann: Introduction to the Masterclass Medingen Manuscripts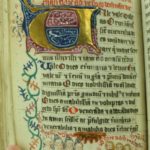 On the day after Henrike Lähnemann's Inaugural Lecture, all four Medingen manuscripts held in Oxford (list of manuscripts) were displayed in the Weston Lecture Theatre and specialists discussed various aspects of the manuscripts.
Speakers included the Abbess of Mariensee, Bärbel Görcke M.A., who talked about the spiritual heritage in today's Protestant convents; Dr Ulrike Hascher-Burger (Utrecht) on music in the Medingen Manuscript; Andrew Honey, Conservation Department of the Bodleian, on bone and bindings; Alan Coates, editor of the Bodleian Incunabula Catalogue, on the prints in the manuscripts; and Prof. Nigel F. Palmer on Cistercian features, especially punctuation, in the manuscripts. The manuscripts were presented by the Tolkien Curator of Medieval Manuscripts, Dr Martin Kauffmann, and Yvonne Murphy, Keble College, introduced the prayer-book from Keble College library.
This was arranged by Dr Alex Franklin from the Centre for the Study of the Book.
—
Image: Oxford, Bodleian Library, MS. Lat. liturg. f. 4, fol. 174v: The Medingen nuns in Cistercian habit and a group of lay-people from Lüneburg in their Sunday best take leave of the celebrating together the Resurrection of Christ at sun-set of Easter Sunday : Vale, vale, valeas! View the full manuscript on the flickr-site of the DIY digitisation project of the Bodleian Special Collections
Masterclass Medingen Manuscripts 1: Introduction